Academic Literature Review

Open Access
Serious games in prevention and rehabilitation—a new panacea for elderly people?
European Review of Aging and Physical Activity
2011
9:93
Received: 9 March 2011
Accepted: 25 November 2011
Published: 8 December 2011
Abstract
Digital games cannot only be used for fun and entertainment. The term "serious games" (SG) denotes digital games serving serious purposes like education, training, advertising, research and health. Recently, a new generation of games has emerged involving whole-body movements. Compared to traditional interventions, these games may help elderly people to improve their health by enhancing physical fitness and coordinative abilities by combining increased motivation, game experience like fun and game flow and training. Serious games, particularly adventure and shooter games, already play an important role in health education, prevention and rehabilitation, e.g. to enhance health-related physical activity, improve sensory–motor coordination, prevent asthma, change nutrition behaviour and alleviate diabetes and prevent smoking or HIV. In this paper, the impact of SG on prevention and rehabilitation is discussed. Three criteria are applied. Beyond effectivity and efficiency, the additional benefits of serious games can be described and explained by different models including social, psychological, physiological and sensory–motor factors. The quality of study serves as a third criterion. Despite first promising results, there are only few high-quality studies. Adequate content, game interfaces, sustainability and appropriate settings are critical factors for the success of SG. In this regard, (sport) science can help to develop and evaluate SG and test appropriate settings that ensure sustainable use of serious games.
Keywords
Serious gamesRehabilitationPreventionHealth
Introduction
Digital games, i.e. games that are played on electronic devices working with microprocessors, are a widespread leisure activity which attracts not only children and youth but also younger and older adults [
10
,
17
]. However, digital games seem to polarize science and society alike. On the one hand, digital games (i.e. video games, computer games and mobile games) are considered appropriate options to enhance cognitive, sensory–motor, emotional, personal and social competencies (see Fig.
1
; e.g. [
19
,
73
]). On the other hand, digital gaming is considered to cause addiction, inactivity, obesity, aggression and other social, psychological or physical hazards (e.g. [
23
,
43
]).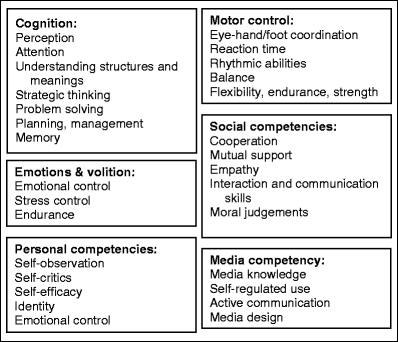 Recently, an area of digital games emerged termed "serious games" (SG). The idea of "serious games" is to integrate playing games, simulation and learning or training for serious purposes like education, exercising, health, prevention, rehabilitation and advertisement (for a review, cf. [51]). Compared to "normal" digital games, SG have the potential to address the competencies illustrated in Fig. 1 in a more straightforward and systematic way, without neglecting the game experience of the players like fun, motivation, flow, immersion, presence, challenge, curiosity and other emotions (e.g. [45]).
Because elderly people (above 50 years) form a considerable portion of digital gamers, ranging from 14% (Germany; [10]) to 29% (USA; [17]), SG may be a reasonable, low-barrier, motivating and sustainable means to improve or at least delay the decrease of selected social, sensory–motor, cognitive and emotional functions of elderly people.
The issue of SG for elderly people as an attractive combination of gaming and serious application purposes on the one hand offers new fascinating options and on the other hand raises critical questions (e.g. [31]). The purpose of this contribution is to address this ambivalence of SG and to discuss the specific chances and challenges for elderly people based on existing evidence. First, we deal with the possible additional benefits of SG for the elderly. From this discussion, criteria are derived to discuss the application areas of prevention and rehabilitation. Due to the scope of this journal, we focus on SG including physical activity neglecting the numerous SG aiming purely at cognitive or social functions.
Serious games for elderly people—what is the promise?
Despite these positive effects of PA and RE, many elderly people do not engage sufficiently in sustained PA or RE, and respective health promotion programmes have not had the expected success [53, 60, 66]. In the literature, the impact of several barriers to sustained PA and RE for elderly people like programme safety, lack of access to required equipment and facilities, lack of PA/RE partners, fear of injury and lack of appropriate positive reinforcement has been confirmed (e.g. [31, 53, 64, 66]). Applying digital games to serious purposes like prevention and rehabilitation may help overcome at least some of these barriers.
As a result, the additional benefit of serious games must not be reduced to the simple formula "serious purpose + motivation". Rather, serious games offer options for a new kind of prevention and rehabilitation with special emphasis on physiological, psychological, social and sensory–motor aspects: "Digital games may offer elderly users with new and exciting ways to be entertained, stimulating mental abilities, and supporting existing and emerging social networks, both within and across generations" ([31], p.19).
Serious games for prevention—exergames and games for health
According to the WHO [77], health is "a state of complete physical, mental and social well-being and not merely the absence of disease or infirmity" (p.1). This definition includes behavioural, physical, mental and social aspects of health and well-being. Besides control of nutrition and drug consumption, performing an active lifestyle including adequate, continuous, and enduring participation in physical activity, exercise or sport is an important issue (e.g. [4]). In this section, we differentiate endurance training, resistance training, training of sensory–motor functions and further effects relevant to prevention.
Serious games for rehabilitation—rehagames
In rehabilitation, numerous applications have been reported [
5
,
74
]. Compared to the realm of prevention, many of the publications are just technical reports, case reports or qualitative studies based on small samples of patients. The following application fields of therapy and rehabilitation are covered:
The first published applications date back to the 1980s, where specific interfaces were developed [1] and the motivational impact of games was exploited [49]. In modern medical therapy, analogous to prevention, the effect models comprise numerous relevant aspects of human action and perception, ranging from knowledge to actual behaviour. One important result of these studies is that therapy has to employ meaningful movements, i.e. movements embedded into a context that makes sense to the patients. Using movements to control a game instead of rote movements had a significant positive effect on therapeutic results.
Brain injury
Studies employing physical activities in therapy with older patients are predominantly found in the therapy of brain injuries. Sietsema et al. [55] found that the range of arm motion increased significantly in a sample of 20 patients suffering from traumatic brain injury (age, ranging from 22 to 54 years) when the reaching movements were embedded in a gaming context (Simon game) compared to a rote exercise condition.
In a single-case study, Betker et al. [9] found that a 52-year-old man suffering from complete paraplegia regained the ability to sit independently after attending 12 30- to 45-min exercise sessions two or three times per week (intervention: COP-controlled video games).
Rand, Kizony and Weiss [48] (study 3) found that seven chronic and five subacute stroke patients aged from 50 to 91 years enjoyed playing the video games very much because they improved gradually. Whereas ten patients did not become frustrated despite comparatively low performance, two (subacute) patients showed obvious frustration because they were not able to use their weak upper extremity to control the game. All patients had problems restricting their movements to the frontal plane.
Yavuzer et al. [79] performed a randomized controlled trial including 20 patients with acute stroke (age, mean = 61.1 years). One experimental group played video games for 4 weeks (five 30-min sessions a week) in addition to the normal rehabilitation programme, whereas the other group did not attend additional training. The game group improved significantly more (dependent measures: Brunnstrom stages, FIM self-care). There were, however, initial differences in favour of the control group. Therefore, the results of this study are to be considered with caution.
Further diseases
O'Connor et al. [47] examined two groups (group 1: age = 42.2 ± 13.9 years; group 2: age = 41.9 ± 10.7 years) using a special wheelchair interface to operate video games. Most of the patients enjoyed playing games and were able to reach a zone of 50% to 60% of their maximum oxygen consumption.
Chuang et al. [14] examined 20 male subjects in cardiac rehabilitation after bypass surgery under two conditions: virtual reality (VR) and no VR. The participants of both groups completed an endurance training programme comprising a particular individual target goal (85% of HRmax and 75% of VO2peak) for about 3 months with two 30-min sessions per week. In the VR condition, an outdoor running track and physiological responses were displayed. Overall, the participants of the VR group reached their target goal significantly earlier than the non-VR group, i.e. after no more than nine training sessions for HRmax and two sessions for VO2 peak. However, the study suffers from confounding of projection of a natural running environment and biofeedback in the VR group. It is not clear whether increased motivation, distraction, feedback or a mixture of the three conditions caused the results.
Lotan et al. [41] investigated the effectiveness of a VR-based exercise programme (Sony Playstation II EyeToy) for improving the physical fitness of adults with intellectual and development disability. Significant improvements were demonstrated in the experimental group (N = 30, mean age = 52.3 ± 5.8 years) compared to the control group (N = 30, mean age = 54.3 ± 5.4 years) for the modified Cooper test (12-min walking test) and the Total Heart Beat Index1 (THBI) but not for the Energy Expenditure Index2 (EEI).
Rosenberg et al. [50] performed a 12-week pilot study with three 35-min sessions a week using exergames (Nintendo Wii Sports) in older adults (N = 19, mean age = 78.7 ± 8.7 years) with subsyndromal depression. This study showed significant improvement in depression symptoms, mental health-related quality of living (QoL), and cognitive functioning, and no major adverse events. There were no significant changes in physical health-related QoL or anxiety. Due to a missing control group, the results cannot be attributed to the exercise treatment.
Summary: rehabilitation
Studies on the impact of SG and VR on different diseases show a great variety of both design and results and often suffer from poor study quality. In principle, SG and VR have been proved to motivate patients to fulfil the therapeutic requirements, to improve physical fitness and to reduce symptoms of diseases. The additional benefit of SG is predominantly evident as an enhancement of compliance or therapeutic effects compared to traditional therapies, whereas components of game experience are rarely or incompletely addressed. In the studies with older people, there are hardly any explicit references to effect models like EMPB or 4LM. Taken together, the existing studies show promising tendencies for additional benefits of SG and VR on the physiological, behavioural and psychological level. Compared to prevention, social aspects only play a marginal role in the studies of SG and VR for rehabilitation. This may be due to the institutional constraints where therapy normally is performed in dyadic interactions of patient and therapist(s).
Again, in the area of rehabilitation, some specific challenges exist for science:
Selection of appropriate sport or sport-like movements or activities of daily living in order to offer meaningful and motivating exercise contexts for older subjects

Construction of adequate training devices offering options that combine challenge and support

Determining appropriate dose–response relationships for the different rehabilitation purposes depending on the stage of the disease

Performing more randomized controlled trials in order to corroborate effects and to find out moderators of game effects

Development and evaluation of adequate training settings
Conclusion—chances and challenges
In this contribution, two promising application fields of serious games for older people have been discussed. Models and theoretical frameworks consider four levels of SG effects: physiological, psychological, sensory–motor (behavioural) and social level.
Existing studies clearly show that SG have much to offer to the fields of prevention and rehabilitation. On the other hand, to avoid a new "hype" overestimating the potentials of SG, the new options of SG can only take effect if these games are developed and designed based on an interdisciplinary understanding of the respective application field. The requirements of the field (particularly the heterogeneity of the target group; [31]) have to match the options of digital games including appropriate content, interface design and game demands.
Successful applications show that this synthesis is possible and can produce substantial benefits of SG at least for a considerable portion of older people. However, studies of good quality including older people are rare, and some evidence shows that older people may have specific playing preferences (including social gaming context) and particular difficulties handling digital games and may not generally take advantage of higher motivation and enjoyment as much as younger people. Therefore, game concepts as well as game interventions have to be developed and evaluated that are tailored to the individual prerequisites of older people.
Another key problem to be solved is sustainability. Serious games have been proved to produce transient effects. These effects may be due to initial increase of motivation. However, prevention and rehabilitation aim at enduring effects. Few studies investigating long-term effects are much less promising. In order to ensure sustainability, research has to evaluate which settings support long-term motivation and engagement of older people in SG.
Therefore, to give a preliminary answer to the question posed in the subtitle of this contribution, SG are not a new panacea of older people but can be a valuable option for prevention and rehabilitation if certain constraints are considered.
Footnotes
1
THBI = total heartbeats during exercise/total distance in metres; example: running 1,000 m with a total of 5 min × 180 bpm = 6,000 heartbeats results in a THBI of 6
2
EEI = (walking HR − resting HR)/walking velocity; example: walking at a speed of 60 m/min with a resting HR of 70 bpm and a walking HR of 100 bpm results in an EEI of 0.5 beats per minute
Authors' Affiliations
(1)
Institute of Sport Science, Technische Universität Darmstadt, Darmstadt, Germany
Copyright
© European Group for Research into Elderly and Physical Activity (EGREPA) 2011